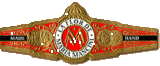 The pros: Very good press, and the draw is excellent-- construction exceeds the expectation I'd have at this price point.
The cons: Maybe not the finest tobacco.
Light-medium in flavor, with plenty of smoke but unfortunately also some acridity early in the finish that I found unwelcome. Smoking it very slowly, especially on account of its draw, helped a lot. Nice size and shape for me.
Now, here's where it gets strange. There's a suggestion of fennel, and in a bad mood I might describe that as "teasingly herbacious, but regrettably bitter". However, smoking it put me in a good mood, so I will instead say that this is one unique-tasting stick!
There's a little acridity on the finish that follows a core of either Sen-Sens (although of course far more mild) or even cedar forest and hay, yet it is more appropriate to describe the flavor overall as unique, rather than leaving the impression that it is an especially complex smoke: it's just difficult to pin down. A mild hint of dark coffee wafts in now and again. Maybe it will make more sense when you try one.
That's it for my feeble attempt at explaining this thing with flowery language, so I'll get directly to my feelings: this is a good cigar for the money, and I think you'd be squarely pressed to find something better constructed at this price point. It is strange tasting, but not unpleasant. I would smoke this again-- a good thing, since I have plenty-- but probably not be inclined
to buy a box. On the other hand, I can also easily imagine this being someone's very favorite cigar for the money.
If you like its character, then about all you will want to ask of it is that it might burn more evenly or be prettier. Otherwise, you're probably going to be in heaven. At the price, if you try one and like it, it's likely a no-brainer. On the other hand, this could come across as somewhat dull or just plain bizarre on a different day.
This is probably a great cigar to go along with a good stiff drink, maybe a little akavit...
I am obliged to point out that the name "Magic Mountain" comes from the Thomas Mann novel of the same name, in which the Maria Mancini brand is mentioned.