Hot buttered rum has long been a favorite wintertime libation. Recently I've noticed that many of my otherwise-worldly peers and acquaintances are not aware of this worthy warm-up, and it would be tragic if such knowledge were to pass into antiquity. As I prepared to write this article, I was somewhat concerned that the time for it had passed as hot buttered rum is traditionally considered to be something of a holiday beverage. On the other hand, the local weather report calls for snow on Monday (is there a better day for foul weather?) so I am somewhat more assured that now is as good a time as any other.
For the neophytes, hot buttered rum is a sweet and spiced beverage which as the name implies contains butter and rum, and is served hot. A brief word of warning: alcoholic beverages served warm are much more potent much more quickly than their chilled brethren, so do start gradually if you have not previously enjoyed such a beverage. Incidentally, this is one of the reasons sake is traditionally served hot (the other being that sake is
only
palatable when hot), but I digress.
The typical preparation of hot buttered rum consists of three components: rum, hot water, and "rum batter" which contains all that makes this drink so special. While rum batter can typically be found at your local package store in small plastic tubs, my personal and somewhat extensive experience has been that quality varies from excellent, to highly-overprocessed (no, it is not called "hot-margarined rum"), to get-a-jackhammer, and all points in between. Therefore, I will offer a recipe for the basic ingredients, and encourage all and sundry to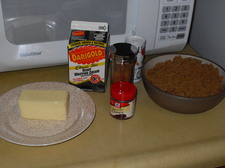 experiment with variations, substitutions, etc. Show this recipe to your father or grandfather and he will doubtless exclaim that I have left this or that out etc., as recipes for rum batter are as varied, traditional, and heartfelt as those for pie crusts, except that men of all walks of life tend to be more profane in their expressions of opinion on such matters - so be prepared. Keep in mind that what is offered here is merely the foundation upon which you are expected to build.
In keeping with the premise of this site, it's worth pointing out that making a batch of rum batter takes approximately one minute by any gentleman worthy of the name, and a batch is sufficient for many an enjoyable evening by the fireplace. Hot buttered rum is an excellent companion to a nice pipe or cigar tobacco, particularly those varietals which have hints of chocolate or berries. It is, in all ways, a fine and very warming nightcap to counter the dark and cold of midwinter.
The Recipe:
1 lb dark brown sugar
1 1/2 Tablespoon ground cinammon
1/2 teaspoon ground cloves
1 pinch salt
1 stick (1/2 cup) softened butter
1/4 C heavy cream (or half and half, or milk if need be)

Combine dry ingredients first, then add wet ingredients and mix thoroughly with a wooden spoon. Seal any unused batter thoroughly and store in the refrigerator. Serves 10-20.


Preparation:

Pour desired amount of un-spiced rum into a large coffee mug. Add 2-3 heaping teaspoons of rum batter and mix well (will be slightly lumpy). Add boiling water until desired concentration is achieved, and stir until all ingredients are dissolved. Find a warm fire and enjoy.