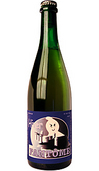 I was overjoyed to taste the Fantôme Hiver, a delicious winter saison straight from
Brasserie Fantôme
in Soy, Belgium. The brewmaster, Danny Prignon, has a reputation in the beer world for coming up with strange and unique brews, and his seasonal line has a different recipe each year. The Fantôme website is in French, which I do not speak, but from what I'm able to gather, these seasonal brews are typically seasoned with lime, camomile, apples, and even juniper. I didn't read that list before trying the beer, by the way, and lime is one of the flavors I really wanted to pull out of this, but I just couldn't believe it.
This beer is outstanding. It underlines all of the yeast, cloudiness, and funk that gives the saison style its charm. It pours a cloudy, flaky golden color with a thick, white head that really wants to stay around until the last sip. It has that full, meringue-like quality that many fine Belgian ales possess.
There's a powerful, yeasty aroma to the beer. Hints of some sort of near-citrus, perhaps lemongrass, and an underlying sweetness also tempt those nostrils lucky enough to grab a whiff of this wonderful brew.
The flavor is full and funky, with notes of coriander and maybe some hints of licorice or anise. Maybe. There's also a tart, bitter flavor dancing about in there that must be the aforementioned lime. Perhaps lime zest? And like all good saisons, it speaks of earth and substance. It's a really remarkable beer, and I wish I could drink this one every day. However, like most saisons that I've tried, I suspect it would go much better with food than on its own, which just makes me want to get more of it and drink it with every meal.