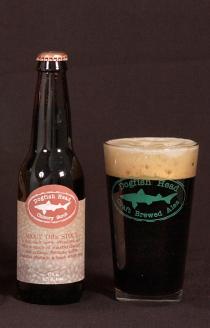 I've had the pleasure of tasting a number of really remarkable beers lately. Among them is
Dogfish Head Chicory Stout
, a seasonal beer from that strange brewery in Delaware that we all love so much. The bottle promises a hearty stout brewed with chicory and Mexican coffee under a "bone-white head". It lived up to almost all of these promises.
When poured, this is a black beer through which little or no light can seep. The head, instead of being bone-white, is tan, thick, and healthy, with nice retention. On the nose, dark roasted notes of coffee and chicory are certainly present. I haven't had chicory in a very long time, so it's difficult for me to remember exactly what it smells like, but this beer definitely stirred some distant memories.
This beer is a pleasure to drink. It has a spritzy effervescence that one might find surprising in a stout. Its strong coffee and bitter chocolate flavor is held up by a roasted sweetness and stout deliciousness. At 5.2% ABV, this is a beer that one can savor long into the cold Winter night, where I am certain it would be a most welcome companion. This beer earns four stars for being a rather outstanding and interesting stout.