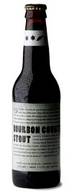 Wow. Wow, wow, wow. Some beers are big, and really grab you by the gonads and shake you fiercely.
Bourbon County Stout
from
Goose Island Beer Company
is one of those. It starts out as black as sin, so dense that light doesn't penetrate. This mysterious, midnight brew is topped by a thin, fine brown head that doesn't stick around for very long. It smells like bourbon and candy, with strong notes of molasses and hints of honey. You can get a whiff of the alcohol from across the room, too, I'd wager.
"Oh boy!" I proclaimed upon tasting this stuff. It's a thick, chewy beer with a strong, solid body and big, dark malts. It tastes of molasses, black licorice, oak, and an almost cloying sweetness. The alcohol, though it's just 11% ABV, is hot and lingers throughout the aftertaste, which is really not unlike that familiar bourbon burn.
This is an impressive imperial stout, though I have to admit that it was perhaps a bit too much for one sitting. I think two people could easily share a 12oz bottle of this stuff, and it is probably best served in a snifter. Overall, an interesting beer experience! By the way, for those interested in tasting this beer, we'll be
opening it this evening
at Bear Creek Beers.