I didn't realize we'd gone so long without articles! Well, I've got lots of notes, and will begin posting reviews and things again, starting with a rather disappointing experience with
Bison Brewing's Farmhouse Saison
. This beer is getting pretty good reviews in other places, and has won a number of awards, so I'm really hoping that I just got a bad bottle, and that my experience doesn't reflect on all of this saison.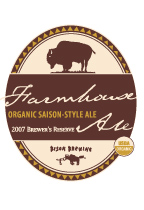 Saison, or farmhouse ale, is one of my favorite styles of beer. There are some pretty nice American offerings in this style, most notably from
Ommegang Brewery
and
Wolaver's
, and the former's Hennepin is a formidable opponent. Now, Bison Brewing's saison starts out pretty nice. It is a lovely gold color, though seems to be lacking the richness of color that I expect in a saison. The head was not the exciting, thick foam I was expecting, either, and had rather rotten retention.
The nose was slightly sour, which could have been a product of the yeast. It was sort of flat and boring, and had an aroma that reminded me of poorly made homebrew. (Actually, it reminded me a bit of the smell of my own homebrew, which was never very impressive.) After the tepid head and sour smell, I wasn't very excited about drinking this stuff. Indeed, it failed to impress. It was bland, sour, and lacking the body and earthiness of a good saison. There was a very strange bitterness in the finish that I couldn't quite place, and a sort of odd effervescence. My suspicion is that the bottle conditioning in this particular bottle didn't go exactly as planned, so I'll try another one sometime soon. Let's all cross our fingers and hope for the best, eh?