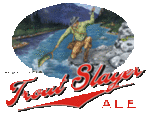 One of my favorite things about
Big Sky Brewing Co.
is all of the great names they come up with for their brews. Moose Drool Brown Ale, Scape Goat Pale Ale, and Powder Hound Winter Ale are some of my favorites. I'm not very familiar with their beer, so when I got the opportunity to try Trout Slayer Ale, I took one look at its awesome label and dove right in. This is actually a pale wheat ale, which I don't think is a very common style in the States, and weighs in at 4.7% ABV, making it perhaps the weakest beer I've reviewed so far.
It pours a pale gold color with a rather wimpy, big-bubbled head that left minimal lacing. It has a very yeasty, clean smell to it with hints of light fruit and hops. Nothing about its appearance belies that this is a wheat ale. In fact, until looking the beer up later, I didn't realize that wheat was used in its production at all. I found the flavor to be unremarkable. It's dry and clean, with hop notes about as weak as the maltiness. There's a pleasant effervescence to it and a bit of tartness at the back of the palate, but nothing really jumped out at me.
I'd recommend this beer for hot summer days. Its light body and low alcohol means that one could quaff quite a bit of it while relaxing by the river with a fishing pole, which is perhaps entirely its purpose. Still, in these chilly fall months, I'd rather go for something with a bit more heat and a bit more color. I'm afraid I can only give this beer three stars.