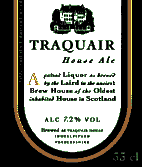 As I researched the
Traquair House Brewery
in preparation for writing this review, I realized something very disappointing: I'd been within thirty miles of this rather incredible brewery, and hadn't even known about it. I wasn't introduced to the Traquair line of delicious ales until relatively recently. While they tend to be rather spendy, they are certainly worth enjoying from time to time.
Their House Ale is a Scotch ale, a variety that's rather difficult to find on our side of the pond. It weighs in at a hefty 7.2% ABV and pours a beautiful dark brown which shows tantalizing tints of ruby and sports a healthy tan head. One's nose is greeted by notes of dark fruit and a promise of malt, and it's difficult to keep in mind that this isn't a very cheap beer, and perhaps it shouldn't be guzzled with any urgency. Anyhow, I luckily managed to slow myself down while sampling this excellent beverage. It has a thick, rolling mouth feel and a really strong malt flavor reminiscent of caramel and fruit. The heat of the alcohol also makes itself known. At first, it seems as though this beer is a rather delicate brew, and it takes a few sips for the flavors to really emerge. When they do, they're worth it.
This excellent beer is on the pricey side, but if you're interested in giving yourself a treat, it's hard to go wrong with a Traquair House Ale. It deserves its four stars.