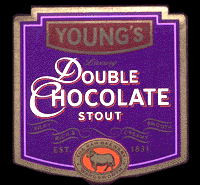 I am skeptical of stouts; I'm doubly skeptical of chocolate stouts, espresso stouts, cappuccino stouts, double chocolate stouts, chocolate cappuccino stouts, and all other combinations of these styles. So many times they end up tasting like bitter, poorly designed dark beers intended merely to separate the eager seeker from his hard-earned cash. This, of course, is something that we at Leisure Nouveau frown upon, which is why I took it upon myself to taste a can of Young's Double Chocolate Stout. It was a public service. I was also rather attracted to its vivid purple-and-yellow can, and the rattling widget inside.
The can warned me to serve the beer cold, but not ice cold, so I took it out of the cooler and let it sit for about half an hour before popping the top with a very satisfying, bubbly hiss (that's the widget's job, you know), and pouring its nitrogen-saturated, creamy black contents into a frosty pint glass. The head was rich and chocolaty in appearance, and possessed a wonderful rich texture. Chocolate was powerful in the nose, as were some burnt, bitter aromas and perhaps a few hints of coffee here and there. It brought to mind all of the best things I loved about good stouts and chocolate milk. This beer promises real chocolate, and it delivers.
Young's Double Chocolate Stout was a very pleasant experience. I was both surprised and overjoyed, to tell you the truth. I am writing this review off of my notes, but all the same, my mouth is watering and I am eager to find another one to drink right away. I suspect I may have to do just that! Pardon me while I cut this review short.