These guys really know their chocolates. A friend recently described the owner of Lillie Belle Farms, Jeff Shepherd, as a "mad genius of chocolate", and when you visit their website and take a look at some of their incredible concoctions, you'll see exactly what that means. I recently had the opportunity to sample a number of their really incredible concoctions and have decided out of the sheer kindness of my heart to share my findings with you.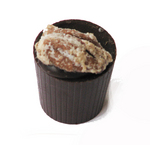 The first treat for my delighted tastebuds was the Maker's Mark Cup, made with dark chocolate, a candied pecan, and, of course, a really astounding pecan butter, dark chocolate, and Maker's Mark bourbon ganache. It starts off with a nice, firm crunch accentuated by the candied pecan perched delightfully on top of it, and is followed by a heavenly, velvety texture filled with all the creamy deliciousness of bourbon, bittersweet cocoa, and butter. The filling on this was only a tiny bit chalkier than the Frangelico Cup reviewed below. Lingering on the palate was a subtle alcohol heat from the bourbon and a delicious wave of cocoa that you really don't want to go away. These are magnificent little treats.
Next up was the Frangelico Cup. I couldn't find a picture of this little beauty, but it's another of Lillie Belle Farms' line of cups, and this one is filled with some sort of chocolate Frangelico creme. Frangelico is a hazelnut liqueur, perhaps most famous for its cleverly-shaped bottle. I am typically not a fan of hazelnut flavors, and thankfully that part of the Frangelico didn't emerge very strongly on my palate. The creamy, smooth chocolate broke in my mouth with a perfect sort of crunchiness. There were strong, dark notes of coffee, cocoa, and perhaps some sort of dark fruit, with a delightful cocoa bitterness in the finish that lingered just the right amount of time. The most astounding thing about these chocolates is the way they roll around in your mouth with the most pleasant of textures.
Finally, I finished up with a Wild Cherry Balsamic Cordial. I was skeptical of this treat because I wasn't really sure that wild cherries and balsamic vinegar should be paired with chocolate, but I trusted Jeff's insane genius, and bit in. A firm, crunchy shell gave way to a magnificent concoction. Dark cherry and hints of balsamic vinegar complemented each other like some sort of well-trained orchestra, swimming amidst a tart, sweet, creamy texture. Incredible, and worth a try.
If you'd like to try these, or some of Lillie Belle Farms' other delights, I'd suggest visiting their online store.