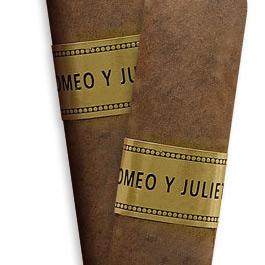 I did not pick a particularly cheap cigar to review today, but I certainly went with something of exceptional quality. The Romeo y Julieta Viejo 'B' is an attractive box-pressed belicoso. It's made of aged leaves, and the Mexican maduro wrapper is a lovely chocolate shade with a slightly oily sheen. It's a firm, well-made stick with a familiar, earthy smell to it. I guillotined the pointed end off and after a quick toast, lit it up. Right from the first inhale I noticed a range of very pleasant flavors. This cigar is of medium strength, and it had a rather tight draw at first. Not an impossible draw, though. It reminded me very much of smoking a pipe with a filter in it. The smoke, consequently, didn't have the full mouth feel that I enjoy right away.
Notes of toast, nuts, and a slight hint of earth were very strong during the first third of the cigar, after which the draw opened up considerably and my mouth was filled with a luxurious, decadent smoke. As I moved past the halfway point, the cigar added an element of spice and some rich cocoa. There is also a hint of sweetness and a bit of pepper on the front of the tongue. Throughout the cigar, the burn was very even and left behind a solid, milky-white ash that, when tapped, fell off cleanly and without any fuss.
During the final puffs, this magnificent cigar became overwhelmingly earthy, perhaps with some bitterness left behind by an accumulation of tar. However, the flavor was still enjoyable, and I smoked it until the butt became too short and awkward to hold. Overall, a really magnificent cigar that I'd highly recommend to anybody looking for a top notch smoke.