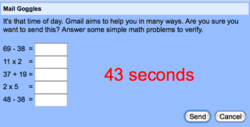 For those of us who occasionally indulge in just a bit too much beer and wine tasting,
Gmail
has now integrated a tool called
Mail Goggles
that can hopefully prevent some of those embarrassing late-night drunken emails. As you can see, it requires the sender to finish a number of math problems in a given amount of time before allowing mail to be sent. Pretty clever, huh?