Without a doubt, the spirit of leisure is somewhere in the realm of, well, spirits. The word itself invokes images of crystal decanters, pewter goblets, fine stemware, mysterious amber fluids, and seltzer bottles gleaming in firelight. Leisurely enjoyment of spirits can be enhanced by finding the right glassware, but this can prove to be quite expensive and difficult.
Unless stumbled across in second-hand shops, cut crystal is typically a rather obnoxious expense for the new leisure class, so we are forced to turn to the realm of of lesser glassware, which can still appear quite classy and can be much sturdier. Matching sets of fine tumblers can enhance the aesthetic appeal of even the most rotten moonshine, and so today we will explore a few alternatives for the tippler on a budget looking to make his bathtub bourbon appear a bit more palatable.
Our first example of good affordable glassware is this finely-shaped lead crystal old fashioned glass. Tumblers like this are perfect containers for a gin and tonic, a scotch and soda, or any other classy afternoon beverage that one might wish to offer a friend. The cut crystal appearance belies its extraordinarily reasonable price, making this a strong contender for a leisurely tumble in a tumbler.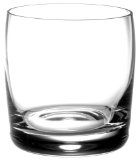 Next we have a decidedly more modern old fashioned glass (a phrase which sounds quite self-contradictory), with smooth sides and a hefty appearance which speaks to the confidence and assertiveness of the drinker. Drinks that might be more appropriate for this glass might be a fine whiskey on the rocks, a single-malt scotch neat, or a measure of rum with a lime twist.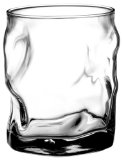 Finally, for the surrealist in all of us, we have this rather lumpy and misshapen old fashioned glass. As far as tumblers go, this certainly has a unique appearance and is likely to draw comments from guests, which one would be encouraged to answer in the most cryptic manner possible, all the while twirling one's absurdly-long handlebar moustache and standing on one leg beneath a cheap Dali print tacked to the wall.