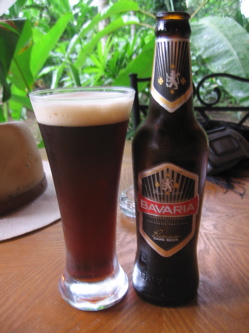 The beer situation in the Limón province of Costa Rica is a dire one, as
Vera wrote
the other day. I believe the two largest are Heineken and Cerveceria Costa Rica, the latter being a huge state-owned monolith that produces such classics as Imperial and Pilsen. Today we are going to take a look at one of Cerveceria Costa Rica's premium beers,
Bavaria Premium Dark
.
This lager is, I believe, a German-style dunkel, and actually comes pretty close to matching the style. It is rather light-bodied, but heavier than the other domestic offerings. It pours a nice ruby-tinged chocolate brown, pleasingly translucent, with a good creamy head that actually sticks around for a while. Of the Costa Rican beers I've tried so far, it actually has the most pleasing appearance and nose when poured into a glass.
Bavaria Premium Dark does carry a nice dose of roasted, dark malt flavor, though it lacks some of the pleasing German yeast flavors I usually look for in a dunkel. And frankly, though I would quickly pick this beer over Spaten Dunkel, I cannot honestly say it will go in my list of top dark lagers.
If you find yourself in Costa Rica, you owe it to yourself to try this beer. But otherwise, avoid it and head for an authentic German or German-style dunkel with heavier flavor and heartier body.