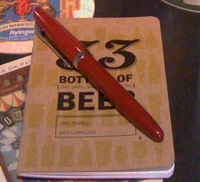 On Friday I was very eager to get to my post office box, because I was certain that I would find waiting for me a packet of beer journals from
33 Beers
. "O frabjous day!" I chortled, upon finding the package. "Callooh! Callay!" I laughed as I tore it open, to find a packet of three lovely little journals. Each is a 32-page journal with space for recording information on 33 different beers (the inside back cover also has a beer record on it). The journals are printed in Portland, Oregon, on 100% recycled paper, using soy-based ink.
I gave away two of the three journals, and the receptions were almost as happy as mine. Nobody else had the indecency to butcher Lewis Carroll, at any rate. So the three of us immediately started pouring beer into us and recording our impressions. One of the great things about these journals is that they really give you the ability to discuss a beer on common ground by comparing notes on the flavor wheel. We found that we all taste things a little bit differently, which should not be too surprising.
The only problem I had with the flavor wheel was that it has a column for "Sulphury", which is not a flavor I frequently encounter in beer, and was missing one for "Bready/Yeasty", which is a flavor combination I encounter often. Aside from that minor quibble, building a "beer shape" for each brew is a fun little activity, and helps one evaluate beers along the same criteria. Flavor wheels are neat, and I have also seen a clever one for cigars over on
True Cigars
.
The paper in these journals feels high-quality, and takes nicely to a fountain pen with no blurring or feathering at all. Likewise, the ink dried quickly and didn't create any real issues for me. Because I love to write with a fountain pen, I tend to be pretty picky about writing paper, so this was a real plus for me. In conclusion, the beer journal from
33 Beers
is a great little product, and I highly recommend it.
If you would like to see the beer journal and its flavor wheel in action, check out
999 Beers
, the featured blog over on 33 Beers' website.