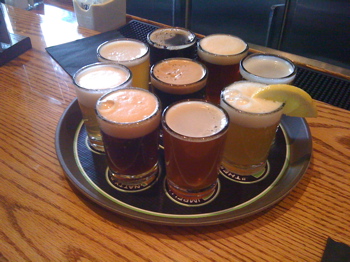 Last weekend, our intrepid beer sleuths (that's Vera and I) managed to visit eight Oregon breweries in four days. This isn't such a huge feat if you're in Portland, but we didn't travel within 100 miles of that fine metropolis. First we visited Newport, and then Eugene.
Newport is home to
Rogue Ales
, perhaps one of Oregon's most famous larger microbreweries. Their beer is incredibly popular, and after tasting over a half-dozen of the varieties they had on tap, our favorites ended up being the smokey, slightly spicy
Chipotle Ale
and the remarkable estate beer,
Dirtoir Black Lager
.
In Eugene, we met up with New Belgium Beer Ranger Ryan Stahel, who gave us plenty of tips on breweries to visit, beers to try, and things to see. It being just a little over a month after the
KLCC Microbrew Festival
, everybody had their KLCC Collaboration Beer on tap. This beer is an incredible Cascadian Dark Ale made with four varieties of hops, a portion of rye, and a Belgian yeast.
We had already sampled
Southern Oregon Brewing
's La Freaque, which is their version of the brew, and it was fascinating to see how the various breweries' takes on the same recipe varied. 999 Beers
shared its review of Ninkasi's brew
, which we did not get to try, and BS Brewing likely had
a few words to say on the project
. Neither seemed overly impressed, but we liked the collaboration beer so much that we ended up taking home a growler of Oakshire's version. It could be that the beer has mellowed out quite a bit in the month since its initial release.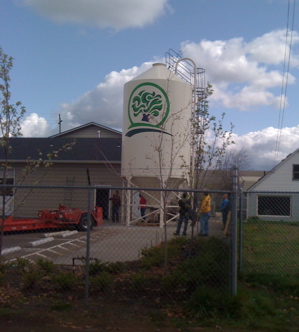 And speaking of
Oakshire Brewing
, I had been fortunate enough to meet Jeff Althouse, co-founder, during one of his trips through Southern Oregon. He invited us to stop by the brewery and watch the
installation of their new grain silo
. It was pretty impressive. We sampled a good deal of their beer, and of course had to take some home. I have been a big fan of their Hippie Town Brown since it was first released as Ill Tempered Gnome last Fall, so was happy to see that it was still around. Likewise, their new Cascadian Dark Ale, O'Dark:30, is bound to a really big hit.
I am very excited about Oakshire, and definitely think that they are a brewery to watch. It's great to see that kind of enthusiasm for brewing and experimentation in Oregon, and I am really looking forward to some of the beer projects we saw while being shown around their brewery and warehouse.
There were two breweries we really wanted to visit but didn't get to see on this trip. The first is Wakonda Brewing in Florence, and the second is the
Brewer's Union Local 180
in Oakridge. The latter supposedly brews cask-conditioned real ales, which I would dearly love to sample. It will have to wait until next time!