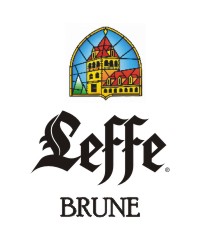 After a long wait, the Gypsy Blues Bar finally has Leffe Brune on tap. This is a brown abbey ale whose blonde counterpart is a pretty popular beer in these parts, but it's always a treat to get something like this from a keg. It pours a translucent dark brown with a thick off-white head that leaves behind a good deal of lacing. The nose is malty and nutty, with the banana-like aroma so common of Leffe's beers, promising a hearty dose of Belgian goodness with every sip.

Indeed, the beer does not disappoint. Unlike a Flemish brown, which typically has a strong sour note, this beer is more like a typical ale. It is sweet with malt, with a solid Belgian character. However, for those who don't like Belgian beers, or are looking for an easy introduction, I'd say that Leffe Brune is far more approachable than many Belgian ales, and is really quite a treat to have on tap.

The Gypsy Blues Bar is located at 205 W 8th St in Medford, Oregon. They've got thirty beers on tap, so even if the Brune isn't up your alley, I am certain that one of their brews will be. Tell them I sent you!