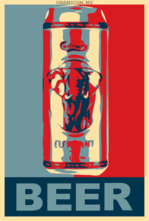 I have a perverse fascination with
Carlsberg
Elephant, a slightly sweet, golden beverage with malty notes, lackluster hops, and a 7.2% ABV that rumbles warmly yet ominously below the surface with just enough heat to remind you that it's there. "Imported," states the can, importantly. "Malt Liquor." No shit? The idea of an elephant lost and trampling through the streets of Copenhagen becomes more and more entertaining after a few of these dull cans of beer.
Do not misunderstand me: this is not a horrible beer. It's no Coors Light or Heineken, but at best it's still just average. There is too much sweetness and the alcohol is too poorly balanced with the rest of its flavor, leaving the impression that this beer has but one purpose, and that is to get Danes drunk. I bet it would be a great chaser for aquavit, so remind me to try that this Christmas.
My perverse fascination began almost a year ago, on Election Day, when I was guzzling beer while entranced by the television, my cries alternating between cheers and jeers. I took excited calls from my mother every time a state ended up blue, her high-pitched yells implying that she, too, was celebrating the approaching Democratic victory with a few tipples of her own. It seemed every time I enjoyed my Elephant, another state turned against the allegorical elephant of the GOP.

By the end of the night, Obama's victory was as certain as my Elephant cans were empty. But through my hangover the next morning, I knew that something new and exciting lurked at the door of the political omnibus, was climbing the steps, and hopefully steering us toward a proud new chapter in our turbulent world.

Months later, I can't say I'm as blindly optimistic about politics and our president as I was that evening, but I still enjoy destroying an Elephant now and again.