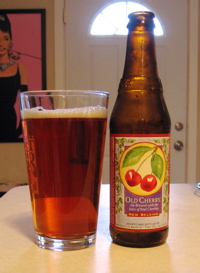 Upon pouring Old Cherry Ale from
New Belgium Brewing
, the scent of cherries was overpowering. I was taken aback, as I had not expected such a luscious boutique to fill the air just through pouring. However, once in the glass, I must say that the aroma of the beer has retreated rather incredibly, and now it smells vaguely of cherries and vaguely of that yeast characteristic of the New Belgium beer.
It has an amber appearance, with a foamy head of medium-large bubbles that has good retention even if it doesn't leave much lacing. The color is not what I expected. I was thinking that a cherry beer would perhaps be either exceptionally dark, like a Flanders red, or very pale, like a raspberry wheat. It is neither. Clear, amber, and ale-like, one would be hard-pressed to tell the difference between this and a pale ale using eyeballs alone.
This is a fruit beer, and I don't always get along with fruit beers. I was hesitant about tasting it, but it's really quite tasty. Smooth and malty up front, the cherry flavors blend nicely with the caramel sweetness of the malt and add a nice tartness that cuts through the sugars. As far as fruit beers go, this one is quite drinkable and perhaps even delicious. I think I may want a second, which is too bad, because I only brought home one of these.
It is my understanding that Old Cherry Ale is primarily available in the New Belgium Folly Pack, so keep your eyes peeled! You may have to suffer through a few bottles of Fat Tire, but you'll be richly rewarded with some Mothership Wit, 1554 Black Ale, and Old Cherry Ale. Go find one!