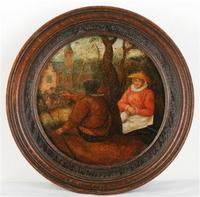 One of my heroes of sartorial splendor,
Lord Whimsy
, writes in
The Affected Provincial's Companion, Vol 1
, "[To] equate money with style is in grave error: Surely money can grant easy passage to exclusive luxuries and rarefied pleasures, but it is by no means the sole path to a life of enchantment." He then proceeds to advocate thrift stores, flea markets, yard sales, and consignment shops as excellent venues for the discovery of sartorial treasures. What he doesn't mention, however, are the wonderful pieces of surprise artwork that one can sometimes stumble upon.
Recently, for example, a very lucky woman
discovered a piece of work
by
Pieter Brueghel the Younger
that ended up being appraised at about €100,000! The discerning tramp aesthete, I suspect, should hold out for works by Brueghel the Elder, Pieter's more talented father, but perhaps one should simply take what one can find. In any case, keep your eyes open the next time you're forced to attend an estate sale, for you never know what treasures you may come across!